Remote Start Fire Pump from Phone
Remote Start Fire Pump from your phone
It's fire danger season in the Adelaide metro and Adelaide Hills… a time of year when a fire safety pump can save lives and save property.
Protect your investment with a diesel powered fire fighting system that can be remote started via your mobile phone, and/or via heat sensors.
Aldgate Pump Sales & Service is proud to be associated with Graham Lund, the West Australian designer and manufacturer of the SFS mobile phone controller that can reliably start and stop a diesel powered pumping system. Complete pump and controller systems are available. The controller can also be adapted to an existing diesel pump, however certain modifications to the motor would need to be undertaken. Contact us for further information, or refer to the data sheet here. We can provide a complete pump package with pipe work, fittings, and even a solar panel to keep the battery fully charged and ready to use when you need it.
Also, see the SFS Control Panel Data Sheet here.
Colard Diesel Pumps
Aldgate Pump Sales offer a "Remote Start Package" complete with fire pump. The Colard Twin Impeller units in either 7HP or 10HP are the most popular models we kit together with the control module.
Please find the Colard 7 and 10HP performance curve here.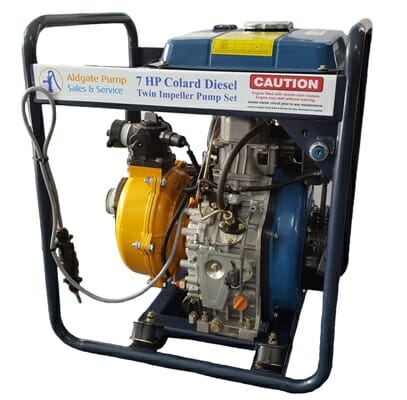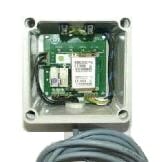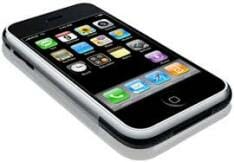 Key Features
Reliable diesel motors
Heat Sensors can be wired to the Control Module enabling automatic pump start via a sensor
Can be adapted to existing "Electric Start" diesels (upon workshop inspection – conditions apply).
Uses the 3G and 4G phone network
Long range fuel tanks available
Up to 10 mobile numbers can be programmed to remotely use the pump
Remotely start and stop the engine
Operational and fault status sent via SMS to the user
Automatically shuts down the engine in case of fault, and informs the user via SMS
IP66 rated enclosure for the control panel

Solar panels or trickle chargers are available to maintain battery charge.
SIM Card
It is up to the user to organise a 3G/4G SIM card for the control panel. These can be purchased from your telecommunications supplier. In most instances you can purchase a SMS SIM card attached to your current mobile account for approximately $5 per month. Aldgate Pumps will need the SIM card and phone number in order to complete the programming of the unit. 
Why the Colard Remote Start Package is superior
PRICE – There is nothing on the market similar in features, for the price.
SIM / NETWORK – This module supports 4G…not just 3G. It's your choice! – Choose the Telco provider to get the best coverage in your area.
DIESEL FUEL – Diesel fuel is more efficient, and has less chance of vapour lock due to high temperatures. Also, diesel has no need for spark to ignite the engine.
FUEL TANK – Large 12 Litre tank for longer pumping.
ENGINE SPEED – The diesel motor runs at a lower speed than a petrol unit, which equates to less stress and pump wear.
CONTROL PANEL – The control panel is mounted next to the pump, not on the pump frame, to avoid vibrating the control circuit board.
BATTERY – The battery is included in the price, it's not an extra.
TECHNOLOGY – We have a "multiple start program" built in, as well as SMS feedback and more. We can supply "one off" heat sensors (as required); we can custom build, for example: Float switches, temperature switches, pressure switches or push button switches.
AFTER SALES SUPPORT – We offer training and technical support
Demonstration
Want to try it out? If you are local, phone the store on (08) 8339 6577 to arrange a demonstration time.