Remote Start Fire Pump from Phone
Remote Start Fire Pump from your phone
It's fire danger season in the Adelaide metro and Adelaide Hills… a time of year when a fire safety pump can save lives and save property.
Protect your investment with a diesel powered fire fighting system that can be remote started via your mobile phone, and/or via heat sensors.
Aldgate Pump Sales & Service is proud to be associated with Graham Lund, the West Australian designer and manufacturer of the SFS mobile phone controller that can reliably start and stop a diesel powered pumping system. Complete pump and controller systems are available. The controller can also be adapted to an existing diesel pump, however certain modifications to the motor would need to be undertaken. Contact us for further information, or refer to the data sheet here. We can provide a complete pump package with pipe work, fittings, and even a solar panel to keep the battery fully charged and ready to use when you need it.
Also, see the SFS Control Panel Data Sheet here.
Colard Diesel Pumps
Aldgate Pump Sales offer a "Remote Start Package" complete with fire pump. The Colard Twin Impeller units in either 7HP or 10HP are the most popular models we kit together with the control module.
Please find the Colard 7 and 10HP performance curve here.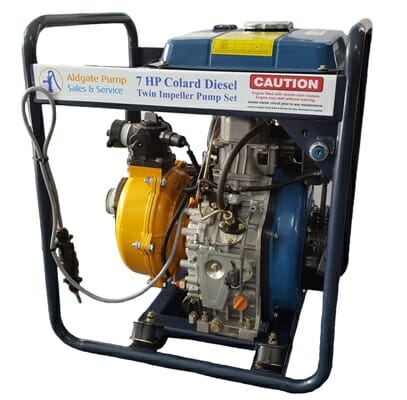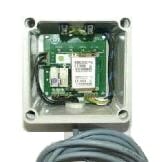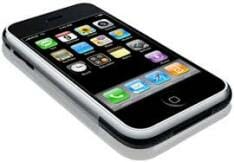 Key Features
Reliable diesel motors
Heat Sensors can be wired to the Control Module enabling automatic pump start via a sensor
Can be adapted to existing "Electric Start" diesels (upon workshop inspection – conditions apply).
Uses the 3G and 4G phone network
Long range fuel tanks available
Up to 10 mobile numbers can be programmed to remotely use the pump
Remotely start and stop the engine
Operational and fault status sent via SMS to the user
Automatically shuts down the engine in case of fault, and informs the user via SMS
IP66 rated enclosure for the control panel

Solar panels or trickle chargers are available to maintain battery charge.
SIM Card
It is up to the user to organise a 3G/4G SIM card for the control panel. These can be purchased from your telecommunications supplier. In most instances you can purchase a SMS SIM card attached to your current mobile account for approximately $5 per month. Aldgate Pumps will need the SIM card and phone number in order to complete the programming of the unit.
Why the Colard Remote Start Package is superior
PRICE – There is nothing on the market similar in features, for the price.
SIM / NETWORK – This module supports 4G…not just 3G. It's your choice! – Choose the Telco provider to get the best coverage in your area.
DIESEL FUEL – Diesel fuel is more efficient, and has less chance of vapour lock due to high temperatures. Also, diesel has no need for spark to ignite the engine.
FUEL TANK – Large 12 Litre tank for longer pumping.
ENGINE SPEED – The diesel motor runs at a lower speed than a petrol unit, which equates to less stress and pump wear.
CONTROL PANEL – The control panel is mounted next to the pump, not on the pump frame, to avoid vibrating the control circuit board.
BATTERY – The battery is included in the price, it's not an extra.
TECHNOLOGY – We have a "multiple start program" built in, as well as SMS feedback and more. We can supply "one off" heat sensors (as required); we can custom build, for example: Float switches, temperature switches, pressure switches or push button switches.
AFTER SALES SUPPORT – We offer training and technical support
What our customers are saying
"Having the remote start pump gives me the peace of mind and flexibility of 24/7 protection. Not just on a bad fire day but any day over summer where I might be at work or away from home. I can start the pump remotely and if necessary, family members don't have to worry about manually starting a pump – they just send a text. There is no confusion as the system talks to all our phones so we all know the status of the pumps operation at any point in time. The remote start diesel pump takes our bushfire safety to the next level".
Alan Kent
Aldgate. SA
"We had a fully automated system installed by Dave Ward a few years ago. I already had a diesel pump connected to a roof sprinkler system and I needed a way of turning it on remotely. Dave's system solved the problem and works flawlessly. It has been a tremendous reassurance knowing that I can simply send an SMS to my pump and it will activate immediately. I can do this literally from anywhere I can get mobile reception.
We are now in the process of selling our property to downsize, and our Agent is thrilled to be able to explain the system to interested buyers….what an asset it has been!"
Chris
Crafers SA
As we live in a bush fire prone area it was very important for us to have reliable pump equipment in times of need.
I contacted Aldgate Pumps who set us up with a remote start diesel pump so no matter where we are we can start up our pump via our mobile phones.
The service we received was excellent, it was like the good old fashioned service of old, we can not speak more highly of Aldgate Pumps and Dave Ward.
Helen and Darryl
Cherry Gardens SA
We installed a manual-start fire system when we first moved to Meadows more than 20 years ago. But when our petrol fire pump started to get a bit tired, we went to Aldgate Pumps to enquire about upgrading to a larger horsepower diesel pump. We realised that for not that much extra, we could have the peace of mind of a remote start system. Dave Ward came out to provide on-site advice and also suggested a simple way of improving the output of our existing system. The remote start set-up was installed with no fuss, and has been absolutely reliable for the last three years since installation. Not only is the system ready to go in the event of an emergency, we also use it to water the garden throughout summer. Dave and his team provide prompt and friendly advice and servicing. We can't recommend Aldgate Pumps highly enough!
Ian and Anne Morrison,
Meadows, S.A
We have built a new house since the Pinery fire in Nov 2015 and installed a sprinkler system with a remote start pump supplied by Aldgate pump sales and service. This system gives us confidence to stay home on bad fire days or save our house remotely from anywhere if we are away. We highly recommend Aldgate pumps for first rate product and excellent service.
Geoff & Mary Mckenzie
Hamley Bridge SA
Our remote start diesel pump means we have an on-site firefighter always at the ready no matter where we are in Australia or the world. A truly worthwhile investment in peace of mind thanks to the top advice and service of Aldgate Pumps.
John and Judith
Upper Sturt SA
As we are heading into our second summer at our new address, I thought I would backtrack to the installation of our fire pump. I attended your Aldgate business and discussed fire pumps with your staff there and was shown the option of your specific remote start system following which I did some research and then contacted yourself for further details of sprinkler systems. It was following this that I ordered the remote start pump. The system was installed without fuss within a month, and what a relief it was to have it there.
You will probably recall 2019 Summer started with two Catastrophic fire days in the first two weeks and knowing that we could leave the property without a worry was very comforting indeed. Having a system that text messages my phone and informs me that everything is operational and that in turn, I can text it to start up I think is just outstanding. I have the satisfaction that I know it works when I am as far away as Kimba (as I have done) or in fact anywhere in Australia where I can send a text message. Just brilliant.
The service and backup you have provided is above and beyond the norm, and as we head into another summer, I would like to thank you and your staff for what you have provided and hope you all have a safe and happy Christmas and that 2021 can provide some relief to us all.
Kim.
Heathfield SA
In preparation for the 2020 – 21 bushfire season, my wife and I decided to compliment our existing fire fighting system with a remote start diesel pump from Aldgate pumps. In consultation with Dave, who coordinates the sales and technical support for this product, we worked out an arrangement to suit our needs.
Dave was readily available to answer questions and came on site a number of times to advise, demonstrate and help set up the system. The technology is very innovative and its operation was clearly explained to us and we feel confident in the use of this equipment.
I would readily recommend the equipment and the support provided to us by Aldgate pumps.
Michael
Coromandel East SA
The remote start option for our diesel pump has given us peace of mind not only when we travel interstate or overseas, but even when we are at home. Being able to start our pump remotely gives us more freedom of movement on high fire danger days.
Ruth
Skye SA
Colard Diesel Fire Safety Pumps
Demonstration
Want to try it out? If you are local, phone the store on (08) 8339 6577 to arrange a demonstration time.