Iron Tamer
Remove the stain factor from your bore water
Dirty bore water problem?
Do you wish to clean up your bore water and maximise its benefits?
The "Iron Tamer" filtration system from Aldgate Pump Sales & Service is a proven and successful method for dealing with iron and sediment in groundwater. It can be used for domestic and commercial applications.
Where does the iron come from?
Iron deposits are a natural occurrence in systems that draw water from the ground. Iron deposits can result in reduced water flow, increased pump wear, increased power usage, block pipes, taps and other fixtures, can cause offensive odors, and cause the water to leave red/brown stains.
How does it work?
The Iron Tamer requires the water be pumped into a holding tank. The Iron Tamer system is designed to complete the oxidation process in the holding tank and collects the particles in a media filter for later disposal leaving the water clear and low in iron.
What's the benefit of the Iron Tamer?
Clear water
Increased water flow
Increased pump life expectancy
No red/brown stains
No bad odor.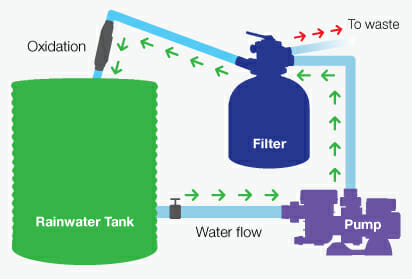 How much does it cost?
Systems vary in price depending on the size of your holding tank and the water quality. We will quote a system to suit your specific requirements.
What are my ongoing costs?
There are no recurring costs with the Iron Tamer system.  General pump and filter maintenance will be required.
What people are saying…
"We have had the Iron tamer installed for 8 years and it's still running strong. It continues to supply clean clear water to my home. It saves me time! I don't need to clean my toilets and sprinkler heads every few weeks."
Ray Underdown 2010
Is the water safe to drink?
No. Other factors other than Iron will determine if your water is safe to drink. The Iron Tamer is only designed to make the water clear and reduce iron levels. A laboratory test will be required to find out what filtration measures are required to make your water potable.
System Requirements
• A free onsite inspection of the bore system is generally beneficial.
• A water sample will be required to ensure the correct system is installed.
• As the Iron Tamer requires a holding tank, we can use an existing tank, or quote on a new tank and installation.
To organise a free onsite inspection, please call Aldgate Pump Sales & Service on (08) 8339 6577, or Woodside Pump Sales & Service on (08) 8389 7439.